Miss Julie
Directed by Kip Williams
Melbourne Theatre Company
2016




Stella
with Cate Blanchett and Joel Edgerton
Directed by Liv Ullmann

Brooklyn Academy of Music (NYC)
Kennedy Centre (Washington DC)
Sydney Theatre Company (Sydney)
2009


Helen Hayes Award for Best Supporting Actress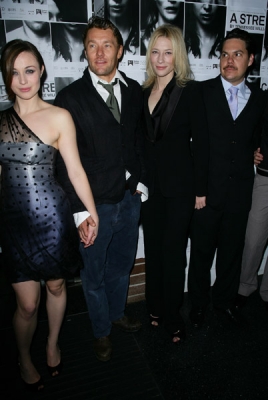 Catherine the Great
by Tony McNamara
Sydney Theatre Company
2008



---



Isabel
Directed by Benedict Andrews
Belvoir Street Theatre
2010



---




Honey
Directed by Benedict Andrews
Belvoir Street Theatre
2007



---
SCREEN

Hell On Wheels


Interview: Hell On Wheels Q&A — Robin McLeavy (Eva), via AMC


Robin McLeavy, who plays Eva on AMC's Hell on Wheels, talks about the evolution of her character, finally getting to ride a horse and missing her signature chin tattoo.

Q: Fans have always had a special connection to you as shown through their fan art and even their own chin tattoos. What's it been like to make such an impact?

A: I just feel so grateful, and I love that [her story] comes from the real life of Olive Oatman. It's interesting because some people say, "You're beautiful even with the tattoo," but I thought I was beautiful as the character because of the tattoo, not despite it. I'm appreciative of the history and the story. I think tattoo art lets your body tell a story for you.
Q: What will you take away from your experience on Hell on Wheels?

A: Eva is one of the most resilient, tough and deeply spiritual women that I've ever played. She develops an outlook on life that is very unique. She's lived so many lives in such a short period of time, but she ultimately always comes back to herself. She's constantly traversing the unknown and having a sense of "anything is possible." That kind of strength was definitely an inspiration to me over the last five years. I kept Eva's hat and her boots, and I still rub my chin and wonder if there's a little bit of tattoo there. [Laughs]
Read More ︎︎︎


---
Homeland

Charlotte Benson
Showtime
2020 (2 Episodes)
---
Wu Assassins


Maggie McCullough
Netflix
2019 (3 Episodes)
---
Blinky Bill

Nutsy
with Toni Collette, Ryan Kwanten and Barry Humphries
Directed by Dean Taylor
2015
---
Backtrack


Barbara Henning
with Adrien Brody and Sam Neill
Directed by Michael Petroni
2015
---
Abraham Lincoln, Vampire Hunter

Nancy Lincoln
Directed by Timur Bekmambetov
Produced by Tim Burton
2012
---
The Loved Ones


Lola
Directed by Sean Byrne
2009